Mike Skliar: Biography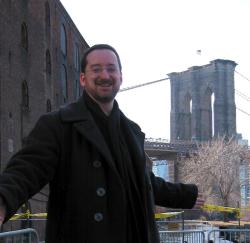 I was born in Wantagh, Long Island, New York, back at the dawn of the 1960's. Music was always a big thing growing up, and has remained an important part of my life for a long time. I started playing a bit of piano many years ago, but never stuck with it, despite encouragement from my grandmother, who has been an incredible piano player for her whole life and still plays today.
A bit later, encouraged by my uncle and a few now long-forgotten friends, I learned a bit of guitar in high school. I became more and more interested in guitar, and in college, I soaked up everything I could learn from everyone who ever picked up a guitar there.
I started writing a few songs, though I put that down for quite some time before coming back to it in the mid-1990's. Several organizations helped me move forward in my music and I can't say enough good things about them. First, I discovered a musician's collective now called The Studio.
I also discovered several wonderful songwriting seminars and programs. The first one I attended was at a retreat in upstate New York State called Omega. During their 'arts week' in July every year for the past 6 or 7 years, Jimmie Dale Gilmore runs a freewheelin week long songwriting seminar. Jimmie is a Texas-based singer songwriter, member of the great band the Flatlanders, and an all around great 'zen cowboy' spirit. In the first year I attended his program at Omega, I met several incredible people including Claudia Marshall, who is now the morning DJ for WFUV and an Ohio bluegrass multi-instrumentalist and wild spirit named Paul Brown.
Another great resource in the mid and late 90's was the great 'Words and Music' open mike at the Coffee Lounge , 3 blocks from my home. There, I met Mark and Angelina Powers, who were recording with an incredible musician/recording engineer (and also, like me, an attorney) named Tom Ricciuti. Tom ended up recording virtually everything I've ever recorded, and playing superb bass, guitar, pedal steel, and many other things on my recordings as well. I'd heartily recommend Tom as a first rate recording engineer and urge any New York City area singer songwriters to contact him to make recordings. Tom continues to play in the trio I have with Ken Ficara which is my main performance group these days.
I've also branched out from playing just the guitar and singing these days to a few other instruments, including the mandolin and the dobro. For those who do not know, the dobro is a resonator-style guitar which was popular in country and blues way back before amplification. I play it lap-style and have a few strange ways of playing chords, which seem to be unique- more about that another time, maybe in the journal section of this site.
In terms of songwriting, I have lots and lots of influences. Bob Dylan, of course (Pete Townshend once said, when asked how Dylan had influenced him, replied 'That's like asking how you've been influenced by being born.") but also many others, including the obvious like Lennon/McCartney and George Harrison, the slightly less obvious, like John Prine, Ray Davies, Richard Thompson and Loudon Wainwright who has in particular been a huge influence. Traditional music (mostly country and blues) learned secondhand from such folks as David Bromberg, Jerry Garcia, and Jorma Kaukonen was a big influence, as well as all that traditional stuff from Doc Watson, Bill Monroe, Willie Dixon, Muddy Waters. Not to speak of those semi-forgotten and not so forgotten 'pop' tunes and standards done by Louis Armstrong, Blossom Dearie, and maybe most importantly, Frank Sinatra. And also, not least, folks like Tom Lehrer, Allan Sherman and a thousand Borscht belt comedians.
Well, enough of me, for now, anyway.... Hope you enjoy this website, which is devoted to the (mostly) musical projects I'm involved in, and feel free to drop a line.